Welcome to the first in a new feature for Oz. The word "paragon" means a model for excellence. The men and women you'll see in this feature will be just that: role models we can all look up to for the highest in professional standards and practices. While it is fashionable these days to win notoriety with infamy, we prefer to celebrate the opposite end of the spectrum. So in Paragon, we will honor the people in our creative community whose contributions large or small have helped make our business stronger, kinder, or just plain more interesting. Paragon candidates can come from any walk of creative life; all they have to do is walk on water. (More than a few folks in town think our first Paragon, Hank Richardson of The Portfolio Center, does this with aplomb.) To nominate your own Paragon, please send a brief description of your candidate's sterling qualities to gary@ozonline.tv.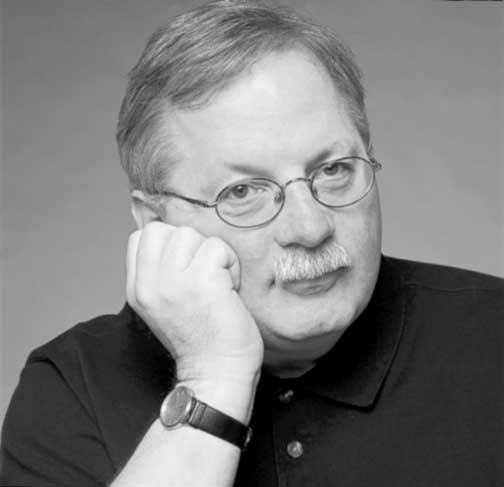 Paragon
Hank Richardson,
The Perfect Storm
by Dianna Edwards


At 4:30 in the morning...
The day Hurricane Isidore drenched the streets of New Orleans, another force of nature is also up and hard at work. Hank Richardson, President and Dean of Students/Education at the Portfolio Center in Atlanta, is at his desk hip deep in one of the 150 or so e-mails he writes every day.
Today isn't a particularly busy day. To the contrary, the school is closed and the building is quiet. There are no students walking the halls, no parents touring the galleries, no teachers in the conference room. Today it's just Hank and his computer and the work schedule that will keep him in the office for another 16 hours.
He loves it. He glories in it. He adores this life and it adores him right back. For Hank Richardson, this schedule, this pace, this gift that he perceives teaching to be is as good as it gets.
"Retire?" He looked at me yesterday as startled as if I'd squatted on his desk and grunted in Swahili. "Retire isn't even in my vocabulary. I can't retire. I probably can't even die."
A Teacher in Designer's Clothing
Hank Richardson has been associated with The Portfolio Center (PC) since the early 1990s. Like many PC teachers, he began by teaching a course here and a course there, never intending to make teaching his career, much less his life. Ha.
At that time, The Portfolio Center was 15 years old, the first school of its kind, and by far the best known. The school's graduates in art direction, copy writing, photography, and illustration had ascended to the pantheon of advertising. The school's design program was less lofty, to put it charitably. That's the way things were at most "professional" schools.
But this wasn't most schools. PC had created this paradigm for education (putting working professionals, not professional teachers, in the classroom) and didn't hesitate to evolve it. Gemma Gatti, the school's Founder (and then President) saw a converging advertising/design/new media curriculum as the future of communication. And when she looked at Hank Richardson, she saw the man to make it happen.
"The first time I met him, he came in here like a hurricane," says Gatti, "with an armload of books he was donating to the library. Just watching him with students. Wow. What a passion he had. To this day I've never seen another teacher with more energy and commitment than Hank Richardson."
Gatti asked Richardson to head The Portfolio Center's design program and revise its curriculum from the ground up. The offer was too intriguing for Richardson the intellectual to refuse, but Richardson also the designer and family man hesitated to walk away from his private practice.
So he accepted the job for three months. That was seven years ago.
The Man Evolves the Medium's Message
The first class of designers to graduate under Hank Richardson numbered four students. Today, classes of 35 to 40 students begin the design program every quarter. The school's total enrollment has always hovered around 250; today it is closer to 300. Today, as in years past, Portfolio Center graduates are scouted by the world's most prestigious firms. (Yes, the economy has impacted hiring; no, that impact isn't felt as deeply with first-hires as it in other, costlier quarters.)
Though it is tempting to use numbers to quantify the change in the Portfolio Center, numbers aren't the best measure of Hank Richardson's influence. Where the school was once clearly divided into "advertising" and "design," today the disciplines are grounded in the same vision —brand communication. Designers are hired by advertising agencies; art directors work with design firms; and writers play with everybody.
Where the word "design" once meant "graphic design," today it includes magazine design, information design, interactive design, product and package design, furniture design, branding and identity design, advertising design, photography, illustration, and writing for design.
Where Richardson's Design History course with its nightmarish time (5:30 a.m.) and knee-weakening project (design and build a chair articulating arcane design theory) was once imposing, it is now a familiar rite of passage. Familiar, but still fantastic: how could pajama-clad students standing on tabletops thundering passages from McLuhan before 7:00 in the morning be anything else? Richardson's unorthodox "Dead Poets Society" methods pushed the boundaries of traditional design instruction. Perhaps more important, they worked. And by working, they planted the seeds of change.
Soon, the Portfolio Center curriculum bloomed with exotica tended by poets, authors, and branding experts. The school's guest list was the commercial arts equivalent of Bread Loaf: James Victore, Jay Maisel, Stan Richards, Abercrombie & Fitch, Pentagram, and more.
When he was named President and Dean of Students in 1999, Richardson was officially able to spread the love throughout the Portfolio Center. "In its history, this school has only had two presidents," he says. "Gemma Gatti held the office for 24 years and is now CEO. She is a person of tremendous vision, no question. She and I both guide and caretake the values of the Portfolio Center—and each day, I value this more."
The Ultimate Measure of a Man
Hank Richardson comes from a long line of artists who sleep little and work with joy. He has loved art since he was a small child, spending whole weekends painting and drawing with his grandmother, just the two of them and a canvas.
He is the richest of men in his home life. Son Dick is an engineer and daughter Elizabeth is a designer, and they both adore him. He has been married for 30 years to a woman who understands his heart utterly. Nora Richardson is still in love with the firebrand she saw dancing on stage with Doug Clark and the Hot Nuts back at the University of Georgia in the 1960s. She remembers the day he walked into the Portfolio Center, when his spirit truly found a home. "He found the thing he was put on earth to do," she says. "To give students the wings to fly."
The Never Ending Story
To commit one's self to learning from Hank Richardson is to submit to the elements: Wind, rain, and fire. He reads voraciously, is interested in everything, and forgets nothing. Except time, when he's working with a student. Students have been known to fall asleep waiting outside his office. Creative Directors (we won't mention names : Luke Sullivan) have been known to fall asleep on the floor inside, snug in a haven of books and magazines and beautiful, perfect objects designed by Richardson's students or friends.
He quotes Proust, Elliot, McLuhan, and Marx, sometimes all in the same sentence. Syntax he not there goes.
He has high expectations and little patience for anyone who does not aim as high as he does. For those who aim high, but miss the mark, he has all the patience in the world. There is almost no length to which he will not go to secure his lost lambs against the night. Even if the "night" is simply the concept of work that does not come from their most honest self.
The lambs know it, too. For some it comes as a surprise when they realize that the Hank Richardson, who has given them so much, is also the giving tree for the other 299 students who walk the halls. Before one young designer left for her first job in New York, she gently took Hank to task, encouraging him to take a vacation now that she was graduating. "It has actually happened many times," he laughs. "It is as if in leaving to face the world, they caringly want to protect this resource" I always know their regard is born of love and respect. But as one student leaves, another arrives.
"I love what I do," Hank Richardson says. And the telephone rings.