AN INDEPENDENT BECOMES A CLASSIC...

27 YEARS OF IMAGE FILM & VIDEO

by J.D. Fite

As I am writing this, it is sunny, 65 degrees and breezy. There is not a cloud in the sky, and the dogwoods have bloomed just in time for the Dogwood Festival in Piedmont Park. The Landmark Theatre is showing a film at 4:10 PM that I really want to see. I feel guilty trading a day like this to sit in a dark movie theater. I look on the horizon to see if there are any clouds forming that could assuage my guilt. I continue to vacillate until I return to the task at hand - telling the story of IMAGE Film & Video.


In an industry that experiences constant technological advancement, an increasingly fickle audience and an ever spiraling array of competing choices, IMAGE Film and Video has remained remarkably consistent in its vision while at the same time witnessing increasing success and growth. As the line between independent and commercial continues to blur, IMAGE successfully pushes the boundaries to create a space for non-commercial, counter-cultural artistic expression.

Like Hollywood's doppelgänger, independent filmmaking has existed since the beginning of cinema. Filmmakers like Oscar Michaeux and John Cassavetes, dedicated their lives to presenting a singular vision on the screen. It has always been a vital and necessary part of the film industry. Much of the innovation in Hollywood wouldn't exist without independent filmmakers.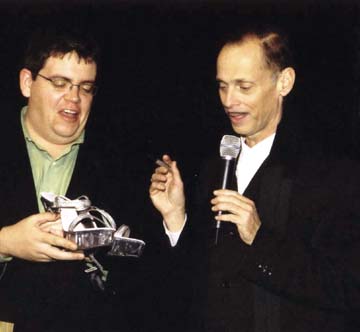 In the 1970's, video technology and cheaper handheld equipment made independent film production a viable option for personal artistic expression for a multitude of aspiring artists. Growing up in the 70s in Atlanta, I made my own films on my parents' Super 8, recreating the Universal Studio horror films I watched every Friday night on Ted Turner's local station, TBS-Channel 46. It was in this environment of new artistic opportunity that IMAGE was formed. In 1977 a plucky group of resourceful filmmakers envisioned a media arts center that would serve as a polestar for aspiring media artists and cinephiles. From the very beginning IMAGE's mission was clear: "build and support a strong media arts community in Atlanta and the Southeast by promoting the production, exhibition and awareness of film and video as unique forms of artistic expression."

In an effort to inspire and foster independent creativity in the media arts and to cultivate a love of the art form, IMAGE sought to serve two constituencies: the filmmaker and the audience. (Many of us like to think that we are both.) Consequently, its energy has been dedicated to both media production and exhibition. A glance at an old newsletter gives you an immediate sense of the culture of the organization, and a comparison to a recent newsletter shows how consistent IMAGE's efforts have remained.

Every month in its newsletter IMAGE cultivates an interest in cinema in the Atlanta community by providing IMAGE's own screening schedule as well as other notable screenings taking place at the High Museum, the Goethe Institut, the Atlanta College of Art, Cinefest and Emory. It provides details on its festival as well as others taking place across the country. It inspires its constituents by celebrating the successes of its members in the "Members in the News" section. The Classified section not only provides members employment opportunities and the ability to buy and sell gear but the opportunity to network and make new connections. The list of Workshops and Salons illustrate the vitality and variety of professional development opportunities that IMAGE provides.

My own professional development as a filmmaker was squelched early - my personal desire for artistic expression through filmmaking was not as strong as my parents' objections to pursuing a life in movies. I found contentment and eventual elation as an audience member. In High school (early 80s) I frequented the Rhodes Theater, Atlanta's one remaining vestige of the Art House days of the 60s. Filmgoers more savvy than I availed themselves of the programming provided by IMAGE. From 1981 to 1984, Linda Dubler, currently the curator of the Film Program at the High Museum, was responsible for programming at IMAGE.

IMAGE has always had a liberal and open-minded approach to programming resulting in a diverse and always interesting filmgoing experience. In a single season one could see the work of a first time filmmaker or an artist with an established reputation (The Fat and the Lean, Roman Polanski (1961) - IMAGE screening, June 28th, 1979). IMAGE screened the work of classic Hollywood filmakers (Citizen Kane, Orson Welles (1941) - IMAGE screening, February 9th, 1978) along side the work of classic independent filmmakers like Maya Deren (Meshes of the Afternoon (1943) - IMAGE screening, February 2nd, 1978). At IMAGE you had the opportunity to see work by filmmakers who would eventually make it big in Hollywood (Last Hustle in Brooklyn, Spike Lee - IMAGE screening, April 14th, 1979) and those that would choose to avoid Hollywood like Barbara Hammer (Still Point, 1990 AFVF).

College took me away from the Atlanta film scene but opened my eyes to the film going mileu of America's other major cities. Brief stints in New York, Washington, D.C., Boston and Portland, Oregon provided the opportunity to develop a kinship with the Film Forum, the Key Theater, the Brattle Street Theater and Cinema 21 respectively. Now, when I return to these cities, I visit these theaters as if they were old friends. My travels have provided the perspective of what is unique about IMAGE and Atlanta as a place that appreciates the media arts.


INDEPENDENT FILMS ARE EDGY, EXPERIMENTAL AND PERSONAL, SOMETIMES EMBARRASSINGLY SO, BUT THE PAYOFF CAN BE TREMENDOUS

When I returned to Atlanta in the late 80s, IMAGE had reached an apex. In 1987 IMAGE moved from 972 Peachtree Street to the TULA Arts Center on Bennett Street. By late 1988, early '89 construction of an 80 seat screening room was completed. At the TULA location IMAGE was able to present screenings, rent equipment and conduct workshops. It was truly a meeting place for Atlanta's filmmaking community. It had become just about everything its founders had envisioned. This is when I discovered IMAGE. I was working for a caterer in Buckhead and peddling boxed lunches at TULA every afternoon. On screening nights I sold cheesecake and coffee to patrons. It allowed me to get my first glimpse at independently made films.

I have always admired filmgoers who supported independent production. Attending an independent screening requires an element of bravery, like trying a new restaurant. With Hollywood films you can watch the box office to determine what is popular. With classic films, well, they wouldn't be classics unless they were worth watching, right? An independent film asks the filmgoer to take a risk - to risk an assault to their sensibilities, to their value system, even to risk boredom. Independent films are edgy, experimental and personal—sometimes embarrassingly so. But the payoff can be tremendous.

I have the restaurants that I frequent because they are tried and true - the Majestic, EATs, and that pub on the square in Decatur. My favorite restaurant used to be Camille's on North Highland (I have been searching for good fried calamari ever since they closed!). By frequenting the same restaurants, I know what to expect. Every once and awhile I'll stretch myself and try something new. There is always a potential for a wonderful discovery when you try something new.

I made many wonderful discoveries at IMAGE in the late 80's, early 90s—El Mariachi by Robert Rodriguez, Sherman's March by Ross McElwee, Oreo's with Attitude by Larry Carty, Fat Monroe by Andrew Garrison and starring Ned Beatty and international surprises like Mathieu Kassovitz's La Haine. There are many more whose titles I can't recall, but the images have stayed with me.

Ironically, when I made a stronger personal commitment to the study of film (graduate school at Emory), my commitment to IMAGE waned. Looking back, I wish I could have spent as much time watching films as I did reading about them. About the time I focused on my studies, IMAGE fell on hard times. (There is no correlation I assure you. I wasn't buying tickets to that many screenings!) The economic climate of the early 90s (the pre-dot com economy) made fundraising difficult, and staff turnover resulted in some missed deadlines for key grant applications. As a result, IMAGE moved to a smaller space at TULA and discontinued the practice of renting equipment. A turn around began with the leadership of Anne Hubbell in 1994 and has continued with the success of the current executive director Brian Newman. "We needed to do some marketing and earn some income. But we did not want projects that weren't organic to our mission," Anne said in an interview. Attention was directed at the festival as the most obvious source of revenue. The number of feature length and narrative type films were increased and often teamed with cutting-edge shorts to bring in a new audience while remaining true to IMAGE's original vision. Screenings at AMC Phipp's Plaza made the festival more visible as well as accessible to a larger audience. During Anne's tenure (1994-98), festival attendance quadrupled.

With some unconventional choices and maverick-like moves characteristic of the filmmakers that IMAGE represents, Brian Newman has built upon Anne's success to bring IMAGE to a new level of prosperity and national recognition. Under Brian's direction, attendance at the festival has increased from 5,000 to 30,000.

Brian's gutsiest move was taking the festival downtown last year. "People want to be able to walk to the festival," says Brian. Brian's hunch paid off. 65% of the attendees last year were newcomers. Increased marketing also had an effect. "The AJC is one of our biggest in-kind sponsors and has really helped build an awareness of the festival," remarked Brian.

Changes in programming helped the festival gain wider appeal. While the festival's focus remains on American independent film, with a special emphasis in local artists, the international selection grew from 3 films the previous year to upwards of 20 in 2003. A special program "Family Matters," seeks to appeal to a family audience. The "Teen Screen" features work by teenagers, and Turner Classic Movies has contributed by screening 5-6 retrospective films. Brian hopes further innovations will eventually increase attendance to 75,000 or more.

Also under Brian's watch sponsorships have increased 150% and IMAGE's budget has expanded. IMAGE is in the position to do more, and it has. "All our activities culminate in the festival in June," says Brian. Films created by the students in IMAGE's Media Education Initiative are screened at the festival. IMAGE provides a screenplay critiquing service, and screenplays that can be filmed in Georgia have the option of entering the Perfect Pitch competition. (The winner receives an all-expense paid trip to L.A. to pitch their story to studio execs.) There are workshops and salons that provide networking opportunities. Screenings throughout the year include the Out On Film a festival for Gay and Lesbian programming in November, screenings at the Martin Luther King National Historic Site, and the Film Slam in which audience members are encouraged to vocalize their opinion.

This summer Brian will step down as IMAGE's executive director. Opportunities are taking him to New York City. That doesn't keep him from dreaming about IMAGE's future. Plans are already in motion to move IMAGE to the Atlanta Contemporary Arts Center on Means Street. A much needed capital campaign will help construct a 200+ seat theater. "IMAGE needs to be a place," Brian reflects, "A resource center where people can meet. I'd like for us to be able to provide post-production access like Avids and Final Cut Pro stations." Brian would also like to see an increase in the diversity of the membership and the programming.

Despite an amazing comeback, Brian believes IMAGE will continue to struggle with funding. "Atlanta is a sprawl city. It is easy to live in Lithonia and have no idea what is going on downtown." Moreover, there are so many funding choices when it comes to the arts in Atlanta. It is a competitive market. Lastly, Brian sees Atlanta as a "nesting town." Families are content to stay at home. To survive, Brian believes, "IMAGE must offer an experience [people] can't get at home." That is why he would like to see more films offered where you can meet the filmmaker.

Talking to Brian, I reflect on my own film going habits. (He assures me I am still in the IMAGE age demographic—18 to 40.) Family, job and increasing responsibilities, not to mention beautifully sunny days, make it difficult to find the time to participate in the artistic film life of Atlanta. If we had winters like New York or a rainy season like Portland, perhaps Atlanta would have a more committed film going audience.

Yet, there is a certain excitement in wandering into a film screening which you know nothing about. It is like visiting a new restaurant without reading a review, the potential to be surprised is part of the juice. Films have the ability to challenge us intellectually, aesthetically, even spiritually. They have the power to communicate a common humanity, to enable us to experience something greater than ourselves. An organization like IMAGE empowers filmmakers and filmviewers to expand the boundaries of their respective artistic experiences of the film medium, to take risks, see new perspectives and ways of seeing the world and to explore new forms of expression in media.

I hope your exploration is full of many surprises.

Oh, and that film at the Landmark. I think I'll wait for the evening show. There's a restaurant in Cabbage Town with outdoor seating I'd like to try. Maybe I'll order the calamari.

© 2004, J.D. Fite - All Rights Reserved.