PRSA Honors its Own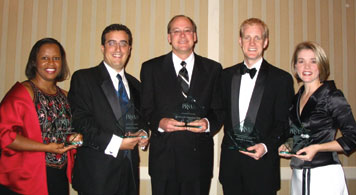 The Georgia Chapter of the Public Relations Society of America (PRSA|GA) has presented its six Chapter Awards for 2004:

Neil E. Hirsch, communications specialist at Ford Motor Company, received the Rising Star Award. The award honors a relative newcomer (five or fewer years of experience) to public relations for exceptional leadership potential and achievement.

Gabrielle A. Braswell, manager-public affairs at Solvay Pharmaceuticals Inc., was given the Shining Star Award, recognizing a mid-level public relations practitioner for demonstrating achievement and leadership.

Alicia R. Thompson, director of communications for Popeyes Chicken & Biscuits, was awarded the George Goodwin Award. The award recognizes a Chapter member for significant cotributions to the community through volunteer service in civic, cultural, charitable, educational or religious work at consistently high levels of participation. The award is named for George Goodwin, a 64-year veteran of PR whose community service helped shape the city of Atlanta. He is known nationally as "the dean of PR people."

Michael B. Manning, APR, senior vice president-vertical markets at Manning Selvage & Lee in Atlanta, received the Dyar Massey Award. The award recognizes a PRSA|GA member who has made a continuing and outstanding contribution to the Georgia Chapter and to the Society over a period of years.

Anthony J. Surratt, executive director of public relations at Cox Communications Inc., was awarded the Outstanding Public Relations Professional Award. This award recognizes a senior-level PR practitioner who has demonstrated significant leadership and contributions to the professional through his or her work experience.

Monica Kaufman, anchor at WSB-TV, was honored with the Distinguished Public Relations Award, given annually by PRSA|GA to a Georgian outside of the public relations profession who has made an outstanding contribution to Georgia and its image.

In addition to the Chapter Award honors, 80 awards in 50 Program or Project categories were presented at the annual gathering, recognizing outstanding public relations work. The Best of Phoenix award, judged from some 200 entries, went to Cox Communications, with Ketchum, for "Make Them Play Fair, " a campaign to explain the complex economics of cable pricing to customers.

A record-breaking 400 persons attended the event, held at brand-new Intercontinental Hotel in Buckhead, north of downtown Atlanta. The hotel opened its doors two days before the dinner.